5 Days of Devos
The months and days leading up to Christmas can be fun and exciting. For some, it can be stressful or lonely. Either way, as RISE we wanted to share with you 5 Days of Devos to prepare your heart for Christmas. We hope God blesses you, and that you have a very Merry Christmas!
---
Day 5 | Merry Christmas!
Thank you for spending time with us over the past few days as we prepared our hearts to celebrate the birth of Christ. We'd also like thank our friends Josh Brewer and Justin Jenness for sharing in these devotionals as well. We hope you have a very Merry Christmas as you gather with your friends and families. The Prince of Peace and the King of Kings is here! 

Matthew 1:21 - "She will give birth to a son, and you are to give him the name Jesus, because he will save his people from their sins."
Merry Christmas from all of us at RISE Ministries!

Day 4 | Christmas is Coming
Christmas is coming, but waiting is hard. Growing up waiting for Christmas was always exciting, but really challenging. Christmas preparations, like decorating the tree, built the anticipation. Waiting is not new. Waiting is a common theme in our lives, in our faith.

Many were waiting, just as we wait in expectance, for the First Christmas. John the Baptist gave us an urgent message of repentance prior to Jesus' arrival. The Jewish people had been waiting for a King to come and overthrow the Roman government for centuries. Many started to question if the prophecy in Isaiah would come true. Many lost faith. The focus turned from seeking a king, to seeking self-righteous.

How do you wait? Some of us get bogged down focusing on things that give false hope. This Christmas I challenge you to open your Bible and read about John the Baptist. John the Baptist was preparing the way for Jesus, telling those around him to repent as they wait for the Savior's arrival. John the Baptist's message of repentance was not just directed towards those during his time, but for us at this time. Many of us need to repent. We need to turn from our sins ask for forgiveness and seek Christ. Once we repent, we can truly see the light Jesus has brought into our world and appreciate the true meaning of Christmas. 

When you experience the peace that comes with repentance, you experience the true love that Christ has for us. God sent His Son, Jesus Christ to die for our sins. That is true love. A love that will never stop chasing after you.  Know that Jesus will meet you where you are. As you go through the season of Christmas, remember that you are loved. You are a child of God.

Christmas is coming. Christmas: our Savior comes to us humbly, meeting us where we are.  Humbly go to Him, repent, and wait in anticipation for the beautiful promises He has made us.
Written by Justin Jenness, Southern Hills Church

Day 3 | JOY
The other day a Pastor friend of mine asked me to speak at his church. I said, "I'd love to, what's the theme?" He said, "JOY, what does JOY look like at Christmas?"  I think I laughed at him. Not because I don't believe in joy or Christmas, but it seems like they go less and less together each year.
Instead of joy we find ourselves stressed, angry, frustrated and fighting. I mean do you ever argue about this stuff...When am I going to have time to get all the decorations up? When am I going to have time to do all the Christmas baking? Who are we buying gifts for? Are they on the list? Did the Christmas cards get out? Do we have everybody's name for the Christmas card list? Are we traveling again this year? How much are we spending on gifts? Do we have to do that again this year? 
It seems like what's supposed to be the happiest time of the year turns into one of the most stressful times of the year. Joy gets overlooked, buried and even thrown out the window.
We've got to step back, refocus and learn from a great example in 1 Samuel 1. If you haven't read Hannah's story, or if it's been a while I highly encourage you to this Christmas. Here is a gal who couldn't have children, was taunted by her husband's other wife because she couldn't have children, cries out to God for mercy to have a child, and promises if she does get to have a child she'll dedicate it back to God.
So Hannah gets exactly what she asks for - a child, and then dedicates that child back to God. What? Really? She gives Samuel to the priest to go and live and learn from him. The gift she wanted so badly she gets and then does what she promised.  Hannah had JOY!
Why, because Hannah found that her joy came from being a servant to Almighty God.
Hannah not only offered God her son, but herself as well. As I went through the story and gave the message I kept asking God what acronym can JOY stand for?" And He gave me, Just Offer YOU!  
JUST  . OFFER  . YOU
Merry Christmas!
Written by Rob Roozeboom, RISE Ministries



Day 2 | Does anyone know what Christmas is all about?
"Isn't there anyone who knows what Christmas is all about?" shouts the young Charlie Brown.

In response to this question, that has been echoing throughout our world since 1965, Linus his trusty friend goes into one of the most famous sermons of all time. Upon clearing the stage and cueing the spot light Linus quotes, 

"And in the same region there were shepherds out in the field, keeping watch over their flock by night. And an angel of the Lord appeared to them, and the glory of the Lord shone around them, and they were filled with great fear. And the angel said to them, 'Fear not, for behold, I bring you good news of great joy that will be for all the people. For unto you is born this day in the city of David a Savior, who is Christ the Lord. And this will be a sign for you; you will find a baby wrapped in swaddling cloths and lying in a manger,' and suddenly there was with the angel a multitude of the heavenly host praising God and saying, "Glory to God in the highest, and on earth peace among those with whom he is pleased!"

Today's culture is not the same as it was in 1965 when this scene took place, nevertheless Luke 2:8-14 beckons to be heard.
Christmas was different for me growing up than most. Many years family members were not around due to addictions and abandonment. I searched for family in the wrong places. Looking up from a dark place in life while in high school was when I first felt the love of Jesus. It was at that moment, Christmas became what it truly is meant to be. To the many like Linus in our culture who are standing strong on the truth of Jesus, I applaud you. I would not be where I am today without the work God is doing in you. To those who are sitting on the sideline I plead with you - join me and many others on the field and turn the focus of Christmas back to Jesus. God has not given the Church permission to coast through life. 

Jesus, I pray for boldness for many more to stand up for your truth.
Written by Josh Brewer, LifeLight Communications, Inc

Day 1 | All is Calm
I recently saw a painting called The Nativity by Gari Melchers. He was an American artist born in 1860. I haven't been able to get that image out of my head. It's beautiful, simple, and yet profound.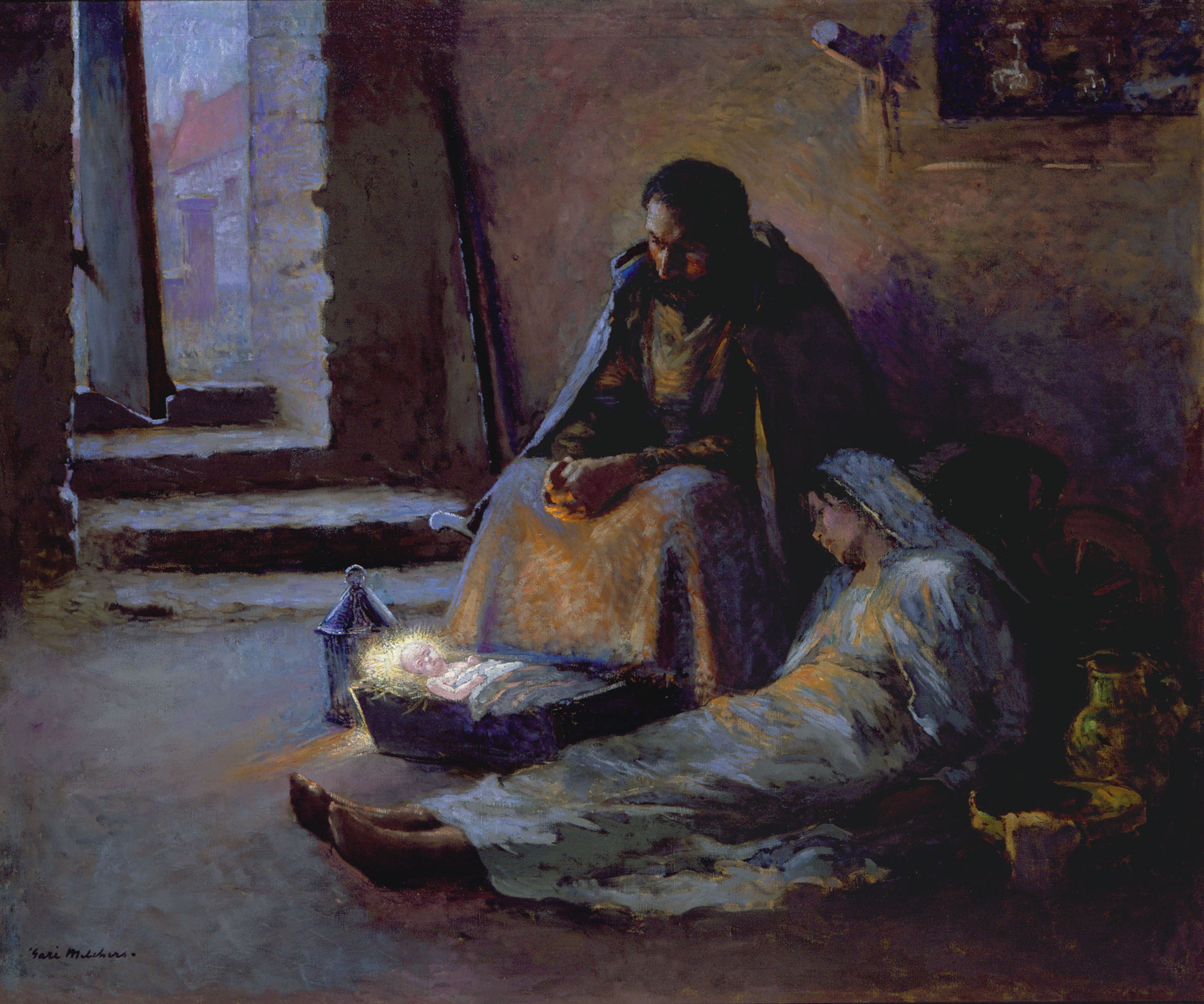 Before the wisemen show up with their gifts. Before the shepherds bring their flocks. We see a brand new family of three taking in the moment. There's Mary resting her head on Joseph, exhausted from just giving birth. But her eyes are still focused on this little miracle. Joseph is looking down at the King of Kings and Lord of Lords in the body of a helpless baby. And of course we have the baby himself, Jesus. He's glowing as you might expect - being the Son of God, but is also resting as he has just gone through the trauma of being born. To quote one of most well known Christmas songs, Silent Night, "Silent night, Holy night. All is calm, all is bright."

This image stands in stark contrast to the world we live in now. There is not a lot of calm and quiet that can be found in the modernized version of Christmas. Yes, the wisemen, shepherds, and heavenly hosts did eventually show up. The birth of Christ definitely deserves fanfare and celebration, but let's not forget the beauty in the profound simplicity of a tiny baby sent as a precious gift for all mankind.
Spend some time this Christmas quietly reflecting on our Lord, just like his earthy parents in this painting.

Written by Lee Stover, RISE Ministries